Yacht Specification
42m (138ft)
Troy Marine
2010 / 2013
Rebuilt to De Basto designs for an owner who wanted to spend a year cruising the Pacific with his young family, TBB offers flexible interior spaces that include a smartboard-connected classroom, an office for the owner, and a full-beam VIP cabin on the lower deck that converts to a family room.
Choosing to travel around the Pacific with his family, the owner of The Big Blue (TBB) was looking to capture the experiences he had had with his own father as a teenager on a large sailboat. As a result, De Basto was brought in to help redesign for a rebuild of the base yacht, which was under construction in Turkey but which was not finished.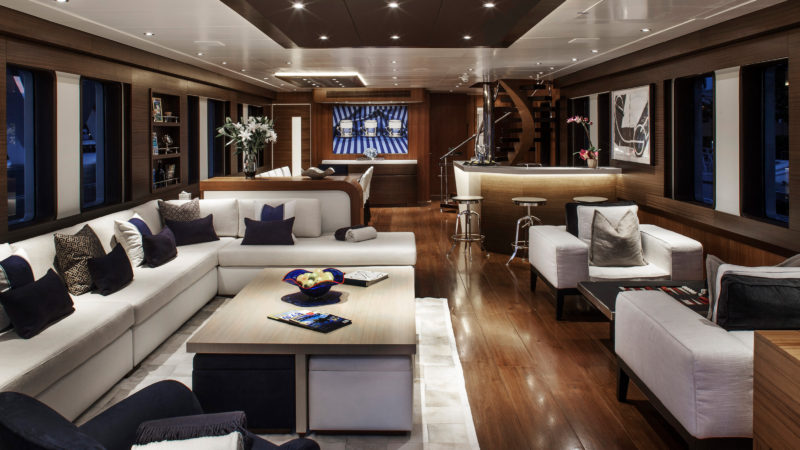 De Basto influenced both the interior and the exterior elements, adding a helipad aft to the latter – the owner is a keen helicopter pilot – and creating a flexible and multifunctional interior layout that could cater both to cruising and, crucially, to schooling the owner's children while exploring the Pacific. To achieve this, TBB features a classroom on board complete with an internet-connected smartboard so that his children could not only learn but also interact with teachers back in their home country. In addition, a lab was added with a T-shaped table made of chemical-resistant materials that would allow for more scientific lessons.
TBB was an interesting boat as the owner did it specifically to go around the Pacific with his family.
Other interior features include an owner's office connected to the classroom, for which smartglass provides privacy should the owner require it; and a full-beam VIP on the lower deck that converts seamlessly into a family room. TBB was a finalist at the 2014 World Superyacht Awards in the Refit category.