Rebuilt as a yacht and relaunched in 2015, Saluzi presented a unique opportunity to create an extraordinary interior thanks to an exciting, far-reaching brief from her owners. As a result, De Basto Designs created a flexible interior layout and style with fun at its core.
The 70m Saluzi – which was converted from a passenger cruise ship – operates both privately with her owners who have a big family, and as a very popular charter yacht. As a result, the brief for her interior design and décor was to create something that was sophisticated and luxurious, but which also reflected a sense of fun. The resulting design takes that ethos of fun as its central tenet and unifying theme, with the various decks and cabins each featuring their own unique style and detail.
This yacht is absolutely amazing. This yacht makes you smile, and it makes you happy.
Each of the cabins carries a completely open-plan layout, with en suite and vanity elements disguised when not in use. The shower in one of the VIP cabins, for example, features a shower head in the form of a hanging chandelier light; other neat details that are intended to cause delighted surprise and raise a smile include bedside lamps for which the switch is a toy gun that you fire at the lamp.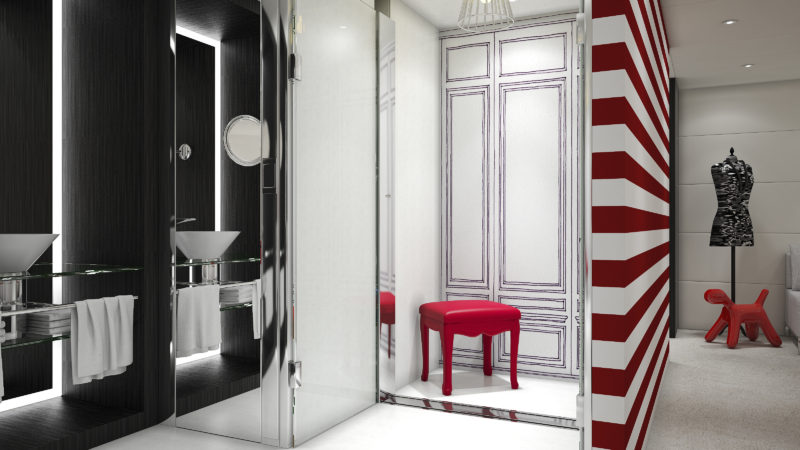 Every corner of the yacht invites family, friends and guests to relax and enjoy their stay, from an exquisite spa treatment room to the large main saloon, a favourite post-dinner area where everyone gets together for informal conversation, sitting on the sofas or the floor. "This yacht is absolutely amazing," says de Basto. "We proposed the very open layout and the owners really liked it. This yacht makes you smile, and it makes you happy."