The extraordinary exterior style of this award-winning 90m Oceanco yacht – which features 400 square metres of glass – is matched by an equally extraordinary interior, which makes full use of floor-to-ceiling windows to create unobstructed views over the water. She is crammed with design highlights, including a waterfall that feeds the upper deck swimming pool.
Dar – the 90m Oceanco that arrived on the superyacht scene to universal plaudits in 2018 – is the epitome of considered, progressive design. De Basto wanted to draw a very large yacht but which moved away from standard stacked decks and instead featured a profile that was more aggressive, more sporty, and more elegant. The result is a stunning fusion of glass and sculptured details that immediately disguises the true size
of the yacht.
On Dar, we touched the limit of what is possible at this moment with glass – it envelops the entire volume of the yacht.
Furthermore, the extensive use of glass – close to 400 square metres in the superstructure – affords the opportunity for an equally striking interior layout. As a result, there are no walkarounds for the upper decks, meaning the views from the floor-to-ceiling windows are completely unobstructed – an invisible door over the ocean. It means the exterior and interior of Dar have been developed as an holistic concept – one cannot change without directly impacting on the other.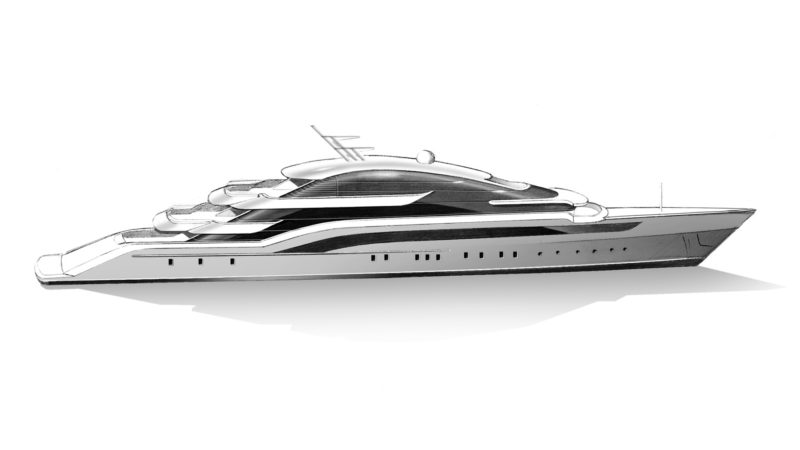 Dar's extraordinary features are not limited to her cohesive design statement, and the smallest details mirror the attention that has been paid to her overall concept. A rotating 6m-wide sofa on the owner's deck, engineered with minimal footprint; the waterfall that cascades into the upper deck swimming pool; the integrated aft deck parasols. These are just a handful of examples of the thought that has been applied to every aspect of Dar's design. It is an ethos that mirrors De Basto's own approach to the creative process.